DTF Gang Sheet Custom Design (Print Ready)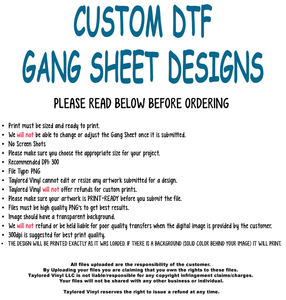 Gangsheeter.app beta testing is available to our customers.
(login to see "Gangsheeter (beta)" button above)

You can use any design software to create your Gang Sheet as long as you can export as a PNG with a transparent background.  Our Gangsheeter is free to use and still in Beta.  Please understand that we are continuously working to make it better.  You can message us and we will try our best to help you.
ALL PRINTS WILL BE READY WITHIN 2 to 3 Business Days, not including weekends. All Orders placed on Friday afternoon will be printed on Monday.  We Do Not Print on Saturday or Sunday.
Please do not come to the store expecting your order before you receive an email stating that your order is ready. 
Please add any special directions in the Notes.
Rush Fee: Order will be ready within 24 hours (excluding weekends and/or holidays).
RUSH FEE DOES NOT MEAN SAME DAY
DTF -DIRECT TO FILM READY TO PRESS DESIGNS
DTF Gang sheets are available in the following sizes: 22 X 24, 22 X 36, 22 X 48, 22 X 60, 22 X 72, 22 X 84, 22 X  96 or 22 X 120 inches.  Please make sure that your gang sheet is size correctly before submitting to our website.
Print Must be sized and ready to print.
We will not be able to change or adjust your Gang Sheet once it is submitted.
No Screen Shots
Please make sure you choose the appropriate size for your project.
Recommended DPI: 300
File Type: PNG
Gang sheets come with your name at the top and an ink line down the side of the sheet.  These are not part of your print, please make sure you remove them before pressing.
Taylored Vinyl cannot edit or resize any artwork submitted for a gang sheet.
Taylored Vinyl will not offer refunds for custom prints.  Please make sure your artwork is PRINT-READY before you submit the file.  Files must be high quality PNG's to get best results.
Image/s should have a transparent background.
We will not refund or be held liable for poor quality transfers when the digital image is provided by the customer. 300dpi is suggested for best print quality.
We will not be held liable for poor-resolution images and keep in mind printing DOES NOT change the quality of the image.
THE DESIGN WILL BE PRINTED EXACTLY AS IT WAS LOADED. IF THERE IS A BACKGROUND (SOLID COLOR BEHIND YOUR IMAGE) IT WILL PRINT.
Due to the variation in monitors and browsers, the colors on the image may appear different on different monitor.
CANCELLATIONS/RETURNS
We will not accept returns/refunds on custom transfers unless Taylored Vinyl made a mistake on the order.
We will not refund for poor quality transfers when the digital image is provided by the customer. 
How to apply DTF:
100% Cotton or blend:                             100% Polyester
Place design on shirt                         • Place design on shirt
Use heavy pressure                           • Use heavy pressure
Press at 302° for 10 sec                    • Press at 280°- 285° for 8 sec
Remove film while cold                      • Remove film while cold
Press for 5 Second                             • Press for 5 Second
Even though the DTF's are designed to peel hot, it may take you a few times to get the pressure and temperature correct for that to happen.  Don't panic!  If it starts to peel up with the film, simply press again for 5 of seconds and let the design start to cool off.  It will peel warm or cold also.
All files uploaded are the responsibility of the customer. By Uploading your files you are claiming that you own the rights to these files. Taylored Vinyl LLC is not liable/responsible for any copyright infringement claims/charges. Your files will not be shared with any other business or individual.
Taylored Vinyl reserves the right to issue a refund at any time.